A ferret show can be a fun way to spend time with your pet and learn about proper health care and grooming techniques.
Any pet is welcome to enter with no special pedigree required and showing your pet is easy. There's plenty of events around as found on this extensive list of ferret shows at The American Ferret Association Inc.
What You Need To Know
In order to register your ferret for a show, you will need some basic information about the animal. Obviously, you will need to provide his name and sex as well as his birthday and color and marking pattern. For health and safety purposes you will need to have all his vaccinations up to date and you may be required to provide copies of his vaccination records.
Grooming
You should follow good grooming practices for your pets health at all times, but before showing your ferret you may want to make doubly sure that he is in tip top shape. Of course, feeding him a premium ferret food is a must for keeping a good coat and bright eyes. In addition you will want to make sure his nails are clipped, his ears are cleaned and his teeth are white. Giving him a bath a day or 2 before the show will help keep his coat nice and silky for the judging.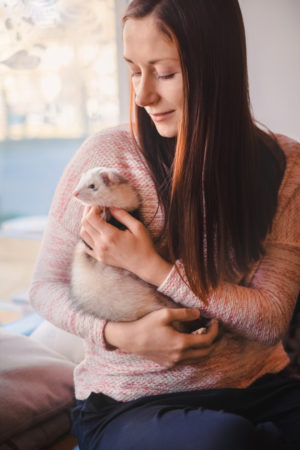 Traveling
Traveling to the show with your pet ferret requires some careful consideration and you must keep your pets safety in mind. Make sure you bring plenty of food and water and the appropriate cage as specified in the show criteria. Of course you will want to have reservations in advance in a hotel that allows pets. You'll also want to bring along the following:
Grooming kit
Ferret shampoo
Cage cover
Judging carrier (as specified by show criteria)
litter box, litter and scoop
Leash and harness
When traveling and staying in a hotel for the show, keep your ferrets safety in mind. Make sure the temperature in the car is tolerable for him and never leave him in the car unattended. Make sure the sun does not beat directly in on him and do not let him loose! In the hotel, you should refrain from letting your ferret run around loose unless you have thoroughly inspected the room to make sure there is nothing that can hurt him and no little holes he can get into.
Judging
While each show can be different ferrets are typically judged on coat quality, markings and condition. Pay attention when you are in the ring and when called, hand your ferret to the judge backend first (with the head facing you). Do not talk to the judge at this time but let him or her evaluate your ferret. When he is done he will indicate for you to retrieve your pet.
Once all ferrets have been shown to the judge, he or she will tally all the scores and each ferret will be ranked. At some time, you will be called back to the ring where the winners will be presented with their awards.
Other show classes include judging on disposition, shape of the frame and head, muscle tone and body proportions.