Your fabulous feline will look smashing in a designer cat collar or even something more basic. You may even want to get her one for special outings and one for just laying around the house. If your pet goes outside a cat collar with pet tag could be the only means a lost pet has of being returned to you.
When selecting a cat collar, make sure it fits correctly. To get the right fit, measure your pets neck and add 1″. You don't want the collar to be too tight in case the cat gets it stuck on something and needs to escape by slipping her head out. You should be able to fit 1 finger between the collar and the cats neck when fitted properly. If you are concerned that the collar could get caught on something and strangle your cat, try a break-away collar.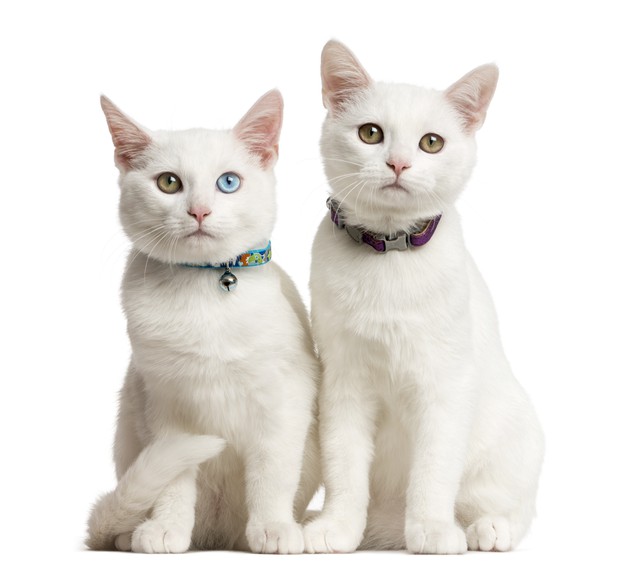 When shopping for a cat collar, you'll find they come in many designs. There's reflective collars, jeweled collars, and silk collars.
If your cat is patriotic he can get a patriotic cat collar, or maybe he's into Harley's and you can buy him a Harley Davidson collar to get him all revved up. You can buy a plain old stretch collar, or maybe a fancier fashion print collar. For fancy parties you could outfit him in a fancy bow collar, or her in a rhinestone collar. If your cat prowls the night, you may want to try a Protect-A-Pet flashing light collar that can be seen for 1 mile at night. And if your cat won't take to a collar, you may want to outfit him with a cat harness.
A regular cat collar isn't good enough for your pet? Try a designer rhinestone cat collar! They come in all different styles and colors. You can get a dazzling 5 row necklace collar, or one with colorful rhinestone flowers. They even have a bone with heart design, flowering vine design, some with pearls and some with Swarovski cyrstal stones in 14K settings. You can even get designer collars and charms made by Dorothy Bauer.
If you want to take your cat for a walk, you may want to add a size right harness and leash to your list or try a snag proof leads.