Golden Retriever and Labrador are both extremely popular breeds in the US and all over the world. So there is no wonder that people started crossing these two breeds to get an offspring with traits of both. As the result we have Golden Labrador Retriever which inherited many great characteristics of Golden as well as Lab.

Golden Labrador Retriever (or Golden Lab or Labrador Golden Retriever) is a fairly popular hybrid breed recognized by American Canine Hybrid Club, Designer Dogs Kennel Club, International Designer Canine Registry. But naturally not recognized by AKC or other purebred registries. Sometimes Yellow Labradors are also called Golden Labradors but this dog is not a subject of this article.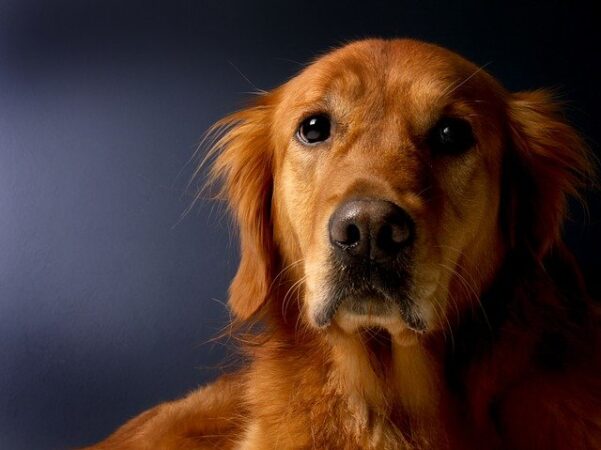 As it was mentioned before Golden Labrador Retriever inherited traits of both "parent" breeds. In fact, Golden Retriever and Labrador have many things in common making them excellent for crossbreeding. Thus, Golden Labs are very intelligent and obedient dogs. They are willing to please their owners, loyal family dogs that are incredibly patient with kind and good with other pets. They are very trainable and easy to socialize. However, this processes still require effort from the owner, otherwise these natural gifts will be wasted.
Lager part of the appearance Golden Labrador Retrievers inherited from Golden Retrievers. They are usual pretty big dogs that weigh 50 pounds and more. Their coat is normally long (sometimes it may be short as well) thick and shiny. The tail can be covered in long hair and curled. Canine has a good muscular built with a head shape similar to Golden Retriever's. These dogs are usually very strong with a good chase instinct. Yellow or dark color of these dogs comes from Labrador.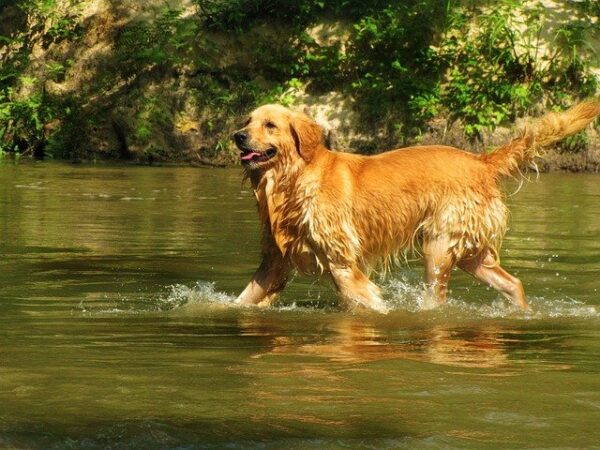 These dogs love water and need to exercise. As well as Golden Retrievers they like long walks, running by the bicycle, jogging, swimming and paying all sorts for dog games and Frisbee. But swimming is still the favorite activity. Just like with Goldens exercises for the Golden Labrador Retrievers are absolutely necessary for their mental and physical health.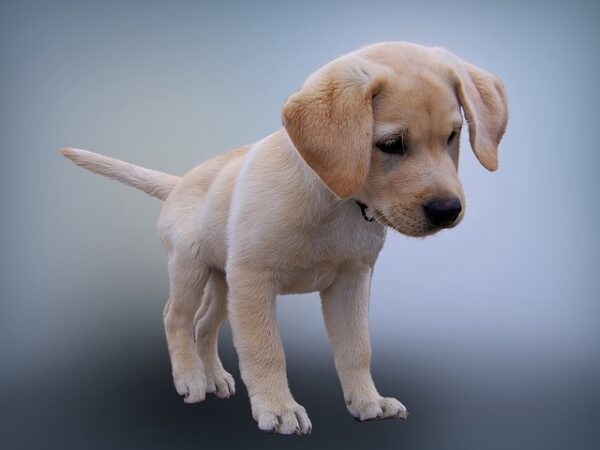 While being great family dogs Labrador Golden Retriever are reported to be not as friendly to strangers as Goldens. They also back and backs loud. Golden Labs generally bank strangers when they are inside or near the house, but sometimes they can back them even at a good distance. Natural chasing instinct may cause Golden Labs to chase cars and bikes. They should be trained from the very childhood not to do it otherwise the habit will stick for the lifetime.
These dogs shed a lot so they require regular grooming. Grooming once a week should be enough to keep shedding to minimum as well as provide necessary care for dog's skin. By the way, Golden Labradors are less prone to skin allergies but they tend to develop dust allergy.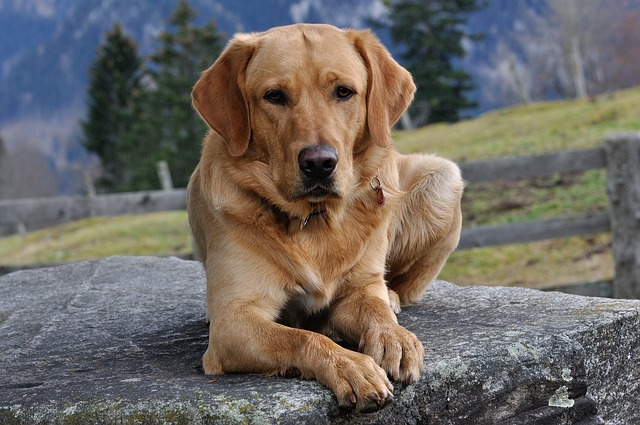 Since these are hybrid dog their health should be addressed even more carefully than the health of Golden Retrievers. In theory, they can inherit health problems of both "parent" breeds.  But they are even more likely to inherit problems common for both breeds like hip and elbow dysplasia and cataract. If you've decided to adopt a puppy be sure to pay special attention on medical records of its parents to make sure they posses no signs of hereditary diseases that may be passed to the offspring.