Want to find out which cat toys might tickle your cats fancy?
At ePet-Center we've found links to the coolest toys and we'll tell you all about them. All cats love to play, but you might want to take cat age into consideration when pickingout a toy for your cat. Some toys are good for all ages such as a fleece lined cat tunnel that he can hide and even sleep in! A good scratching post is essential to any age cat and will help entertain the cat as well as train him to sharpen claws on the post and not your furniture!
Kitten's (8 weeks to about 5 months) have special needs and it's best to go for toys that develop their motor skills while establishing a bond with the owners. Wand Toys are great for kittens, as well as any little ball toy that is easy for them to swat around and carry, but not too small as they could swallow it.
Kittens do not react to catnip so save catnip toys for adults. Adult cats (5 months to 7 years) need toys that give them exercise and promote muscle tone, you might want to get him a toy such an interactive a cat spa for when he is all alone, or a cat wand teaser set for when you want to play with him. Seniors (generally over 7 years) may not have the zip they once did but still love to play. Some gentler toys may be good for your older cat. Here's some cat toys you may want to purchase to keep your cat in tip top shape.
Interactive Teasers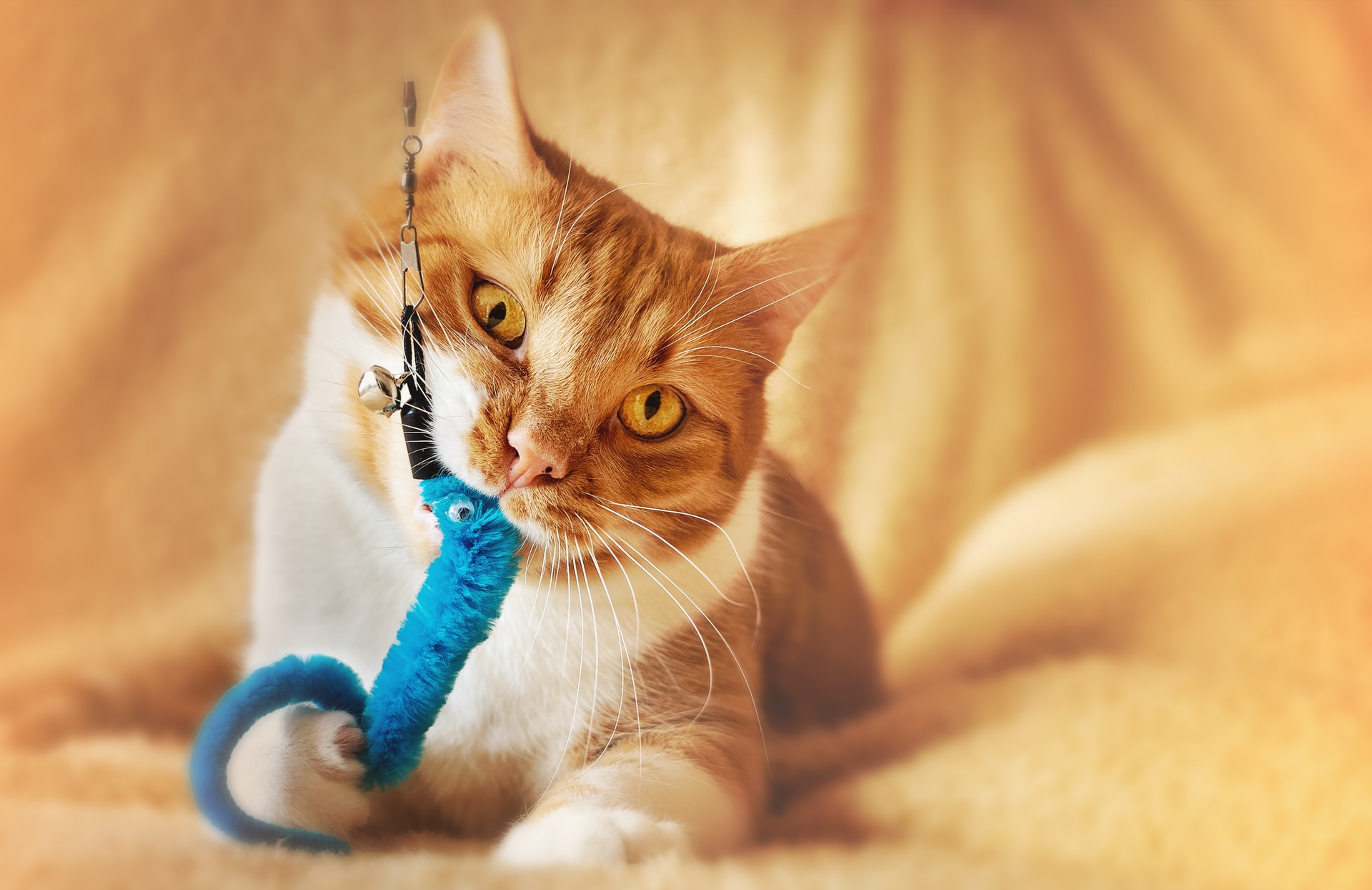 These types of interactive cat toys are usually on long wands or strings. Some of them even come with different attachments for variety! Typically, they have feathers on the end, but the Kookie Kitty teaser has a long furry body with a feather end that your cat can stalk when you snake it along the floor. If you're into fishing, you might enjoy a fishing rod and reel teaser that you actually cast and reel in, as much as your cat does!
Cat Toys that Don't Requre Humans
You can't always be there for kitty, so why not get some toys that she can play with while you are out? Doorknob critters are plush toys hang on any knob and kitty can swat at them as she goes by – you can also use them interactively, when you pull the string the mouse shakes and retracts. The "Race and Chase" toy features a stuffed mouse inside a spinning wheel, everytime kitty tries to slip her paws in to get it, it jumps out of her reach. Another toy, "Catellite" is a plastic ball that she can roll around and the center ball can be filled with catnip and a cat track is another toy that has a mouse inside the track and carpeted pad on top for scratching.
Want a simple inexpensive toy?
Try a toy called cat dancer, a simple design of spring wire with rolled paper that will provide hours of play, or this cat toy classic springy wand cat toy.
Toys that Make Noise – if noise attracts your cat, the cat toys that make noise may be for you! You can have as much fun as your cat when you use Play and Squeek mouse with cheese – a cheese shaped toy that has a furry squeeking mouse inside – keep your cat guessing as you control when it pops out of one of the holes. Or try a plush bird toy that makes a realistic bird chirp and can be hung on a door or used on a wand for interactive play. How about plush buzzer toys that buzz as your cat bats them around.
Ever leave a paper bag on the floor for your cat?
Try this crinkly cat sack, it's more durable than a paper bag and washable. If you want to talk to your cat even when your away, try a Talk To Me Treat Ball. You record your message and fill it with treats – when your cat plays with it your message is played back and treats are dispensed!
Bubble toys – What cat doesn't love to chase bubbles? You can buy cat toys that dispense bubbles – some even blow catnip scented bubbles.
Electronic toys – You'll have as much fun as kitty when you watch her chase this around any number of electronic toys that you can control remotely for hours of fun that is better than YV!
Catnip Toys Catnip is an herb that is a member of the mint family. The reaction that some cats have to it is genetic, some cats have it some don't. If your cat does, then cat nip toys will provide as much entertainment for you as it will for them! There's even a scratcher toy called Turbo Scratcher which has a ball track includes catnip that can be sprinkled inside the scratching for added interest.
Scratching Posts & Cat Play Gyms – A scratching post is a necessity to save your furniture but can also be a fun toy for your cats. You can buy a corner scratcher that will attach to any corner wall, or a standalone sisal scratcher. Try a self grooming arch it will attract and hold loose cat hair and your cat will think it feels great! Cats love plaform play tunnels and they're sturdy and include play tubes, lounge pads, swat toys and have a sisal option availabe for scratching. Nothing but the best for your cat? How about this BigFoot Play Gym – it's got 7 Levels with detachable climbing ladder and multiple lounging platforms, hanging toys, sisal posts and a cat playhouse – the ultimate in cat toys!