Eclipse Aquariums are an all inclusive system and a convenient way to buy a complete aquarium in one easy step. These aquariums feature a lighting and filtration system included in the hood – all of the necessary components needed for a fish tank! No messing with extra tubes or cords or running around trying to find the right size components – it's all included!
These aquariums are acrylic, some with a curved front for a panoramic view and some with rounded corners. The lid houses the patented BIO-wheel wet/dry filtration system including a filter cartridge with the highest grade activated carbon and full spectrum fluorescent lighting (in most units). And since the filtration is a total 3-stage filtration (mechanical, biological and chemical) and all included in the lid there is no unsightly box hanging off the back and a snugger fitting lid makes for less evaporation.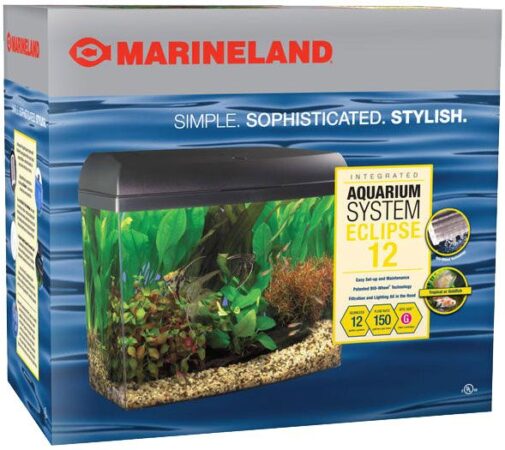 Sizes
Eclipse Aquariums come in several sizes from a tiny 2 gallon that is perfect for an office or small nook to a 12 gallon that is a great medium size tank.
You can find a wide selection of these wonderful aquariums online at the recommended merchants on our aquariums page.