The proper crate can make your dog happier by providing a place to feel safe and secure.
Unlike a cage, a crate is an area where your dog can come and go and serves the same purpose that a den would serve to a wild dog or wolf. If introduced properly, using a crate will make both you and your pooch much happier!
Dog crates can be quite helpful in house training a young puppy since his natural instinct is to avoid soiling where he eats and sleeps. If you are using a crate for this purpose, please be considerate of your puppies needs – a 8 week old puppy can only hold his bladder for about 4 hours so don't leave him in the crate too long or an accident may happen and you'll have no one to blame but yourself! By the time your dog is 6 months he should be able to hold his bladder for an 8 hour work day.
Dog crates can also be useful to keep your dog out of harms way when you are not home and to avoid behavioral problems like shoe chewing that might happen during your absences when the dog can roam free in the house. Please remember to never use the crate as punishment – this should be a place your dog can go when he needs to feel secure so make sure there is a comfortable bed and plenty of water with a few of his favorite toys. It is a good idea to leave the crate open when you are home and the dog is not being confined, I leave my dogs crate open all the time and she runs back in there to nap or when she feels insecure.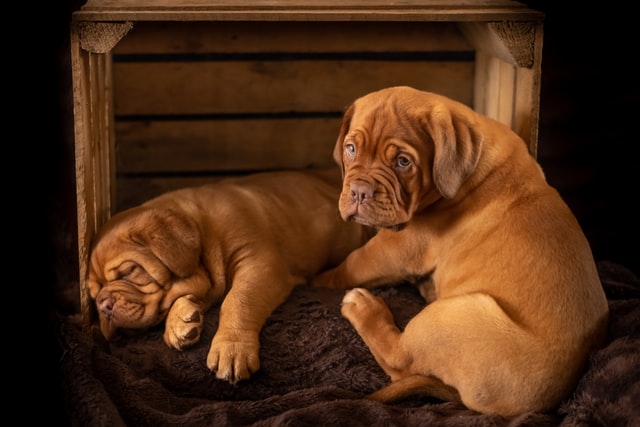 You should buy a crate that is big enough for the dog to stand up, turn around and lay out flat – but no bigger. It should give him the feeling of a cozy den. If you are buying for a puppy, consider buying a crate that will fit the dog when he is an adult and sectioning off a smaller section to fit his size now then expanding as he grows such as the Mid West Lifestages crate listed below which comes with a divider panel. Dog crates come in many materials from wire to hard plastic to designer materials. The crate should be placed in an area that your family gathers in so that the dog will not feel isolated, so keep that in mind when choosing a spot and make sure it is out of the traffic path and not in direct sunlight. If you are worried about how a big crate will look in your living room, check out the wicker crate by Mid West below, it will belnd right into your decor and even look like a nice piece of furniture!
Wire crates will allow your dog to see more of his surroundings, while hard plastic dog crates will have more of a cave like feel. If you travel with your dog a lot, you might consider a fold and carry crate that can easily be broken down and then setup again at your destination – these are great for camping or taking your dog on vacation or when visiting relatives overnight. If you are planning on flying with your dog make sure you get him a hard plastic crate that is airline approved.