Aquarium coffee tables are unusual and quite the conversation piece.
They come in square or round and are basically an all glass or acrylic tank with glass top on a durable plastic base – you sit on your sofa and stare right in to an underwater world! To make it even more spectacular many of them are lit from underneath so the ghostly glow comes up from a base of sea glass substrate.
Aquarium coffee tables are recommended for freshwater only and hold from 14 – 40 gallons depending on the size you pick out. They come with almost everything you would need – undergravel filter, pumps, lighting, tubing, plants and the fixtures are hidden so as not to detract from the tank.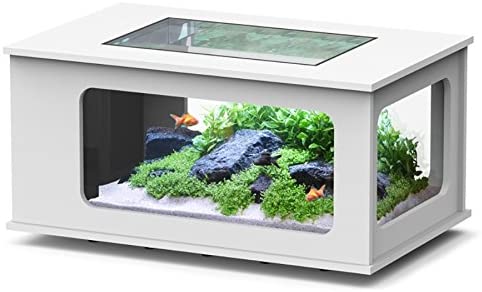 If you are thinking about adding an aquarium coffee table to your home, you may want to keep the following in mind:
You will need an electrical outlet – preferably on the floor near the coffee table, otherwise you will have to snake the cord across to the outlet in the wall. This can be unsightly unless you give it some thought up front.
When filled, your table will be rather heavy so you want to make sure you put it in a spot that can take the weight.
And since it is quite heavy you won't be able to move it around so make sure you pick out the perfect spot for it the first time!
Acrylic scratches easily so if you are looking at tables that have acrylic tops be sure you take care in not putting hard objects on top of them. This sounds almost impossible considering the uses of a coffee table, so it's probably best to go with one that has a glass top.
Why stop at aquarium coffee tables? You can also get aquarium end tables and dining tables too!